Department of Industrial and Management Engineering (DIME) at IIT Kanpur was one of the first B-schools in the country to impart management studies to engineers. Set up in the year 1988, it has now become a premier B-school of the beautiful city-Kanpur. There are many engineering management programmes offered by DIME, Kanpur.
The following programmes are offered:
Master of Business Administration (MBA) programme
Post Graduate Programme for Executives for Visionary Leadership in Manufacturing (PGPEX-VLM)
Doctoral programme
Dual degree B.S./B.Tech+ MBA
Getting into DIME, IIT Kanpur(DIME-K)
DIME-K Results Accepted
For MBA
Indian Applicants - CAT
International Applicants - GMAT
For PGPEx
Application Based and Aptitude Test
DIME Kanpur Eligibility
Eligibility For MBA
Candidates need to fulfill following criteria to meet eligibility.
Eligibility For GEN/OBC
Overall CAT score of 85 or above.
Minimum 65% in class X and XII examinations.
B. Tech/B.E./ or B.Arch (including Mathematics as a subject in class XII) or four year degree.
Eligibility For SC/ST
Overall CAT score of 75 or above.
Minimum 55% in class X and XII examinations.
B. Tech/B.E./ or B.Arch (including Mathematics as a subject in class XII) or four year degree.
Eligibility For PGPEx-VLM
A First-Class Graduate Engineers with First Division/ First Class Marks from High School/Secondary Board on-wards.
Self-sponsored candidates - Minimum 5(five) to maximum 10 (ten) years of work experience in manufacturing and related sector; holding responsibilities in production planning and control, research, design and development, quality control, plant engineering, maintenance, supply chain, etc. For sponsored candidates, the upper limit on maximum experience of 10 years is waived off.
Eligibility For Doctoral programme
An applicant may apply provided he/she meets the following eligibility criteria:

An applicant must have a master's degree in Management/Industrial Engineering or relevant disciplines in engineering/technology with a minimum of 55 percent marks or 5.5 CPI on a 10 point scale.
OR

Applicants with a bachelor's degree in engineering with a minimum of 75 percent marks/7.5 CPI on a 10 point scale.
OR

Applicants with a masters degree in science/arts/commerce, satisfying each of the following criteria may also be considered.

A minimum of 65 percent marks/6.5 CPI in the master's degree
First division in bachelor's degree
JRF/95 percentile or higher in GATE or equivalent performance in a relevant national or international level examination.
OR

A student of CFTI (Centrally Funded Technical Institutes) with CPI of at least 7.0 till his/her 7th semester may also apply, but CPI of 7.5 is required for admission.

Candidates belonging to the Scheduled Castes/Scheduled Tribes who have passed the basic qualifying degree as stated above are eligible to apply irrespective of the marks/CPI and will be considered for admission.
Admission procedure at DIME, IIT-Kanpur
For MBA
Candidates are shortlisted on the basis of their score in the CAT exam (GMAT for international applicants).
The shortlisted candidates are then invited to appear for the Group Discussion (GD) and Personal Interview (PI)
For PGPEx
Applications are filled by interested candidates. Based on their academic background, which has to be consistently first division/first class from school (SLC/ Madhyamik) board examination level to graduation level, relevant work experience, employer's recommendations, performance in the Aptitude Test and Personal Interview is conducted jointly by IIMC, IITK and IITM.
For Doctoral programme
The short-listing of applicants for the written test will be based on the academic record as well as work experience. After the written test, a separate shortlist for each category will be prepared, based on which, the personal interview for the applicants will be conducted.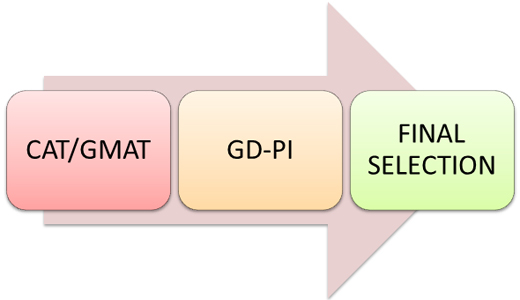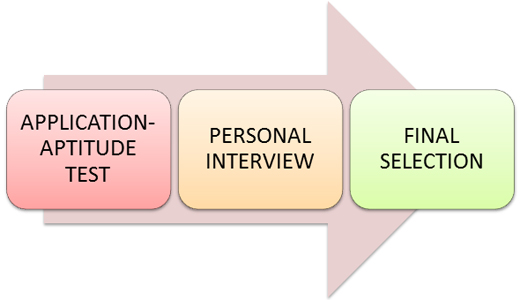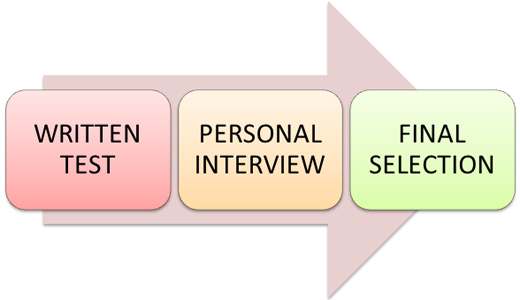 Fees
The fees for MBA program is around 7.14 lacs.
---
Inside DIME, IIT Kanpur
DIME, IIT Kanpur Diversity
The data below shows diversity present in DIME in terms of engineering background and work experience.
Work Experience Diversity
71 % of the batch has work experience of 1 years and above.
Industry Diversity
Most of the students had prior experience in the various fields such as energy, manufacturing, government etc.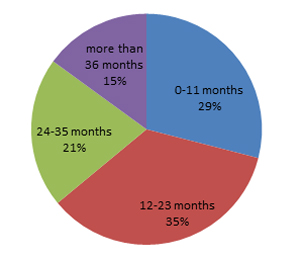 Work Experience Diversity - Batch 2015-17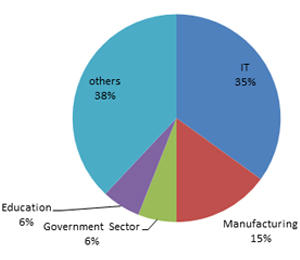 Industry Diversity - Batch 2015-17
---
DIME, IIT Kanpur placements
Final placements
The successful placement of the batch 2013-15 is an evidence of growing interest and trust of the corporate world in the IIT Kanpur MBA programme. Many students achieved handsome pay and excellent jobs.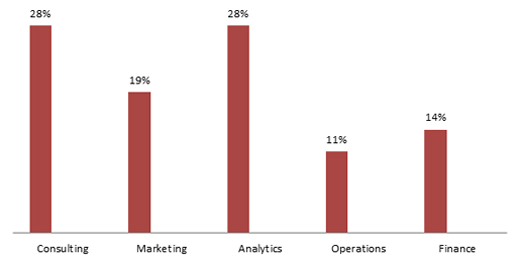 Domain-wise Final Placements - Batch 2013-15
Summer placements
This year DIME a host of companies showing their interest to recruit students from IIT Kanpur MBA programme.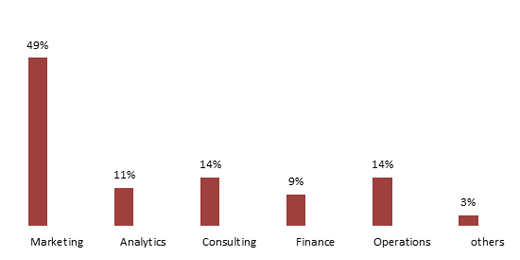 Domain-wise Summer Placements - Batch 2015-17
Disclaimer:
The analysis given above has been prepared by Career Launcher experts. The information given here has no bearing on your actual score. Career Launcher does not take responsibility for any discrepancy between information in this document and actual result.