Institute of Rural Management, Anand (IRMA) - Admissions, Eligibility
Founded by the father of white revolution Dr Verghese Kurien in the year 1979, Institute of Rural Management Anand (IRMA), is a premier rural management institute which prepares talented young managers to assume challenge-filled responsibilities in rural cooperatives and development organisations. Currently, following programmes are offered in IRMA.
PRM: Post Graduate Programme in Rural Management
FRM: Fellow Programme in Rural Management
CRM: Certificate in Rural Management
Getting into Institute of Rural Management, Anand(IRMA)
IRMA Results Accepted
For PRM
For National Candidates: CAT/XAT
For international Candidates: GMAT/GRE (scores after 2012)
IRMA, Anand Eligibility
Eligibility for PRM
A graduate from any discipline, with a minimum of 15 years (10+2+3) of education, having 50 per cent (45 per cent for SC/ST/DAP (Differently Abled Person)) aggregate marks at the graduation level can apply for admission. The percentage of aggregate marks is to be calculated as per the practice followed by the concerned university or institution. In case the university/institution does not have any scheme for converting CGPA into equivalent marks, the equivalence would be established by IRMA by dividing obtained CGPA with the maximum possible CGPA and multiplying the resultant with 100.
Eligibility for FPRM
To be eligible for admission to the FPRM 2016 Programme an applicant must satisfy one of the following conditions:
PGDRM from IRMA; or
PGDRDM from IRMA with one year post-diploma work experience; or
Post Graduation in any discipline from a recognized University or Institution with 55% marks at PG and 50% marks at graduation (college) level; or
Five-year professional degree (medicine, veterinary science, architecture etc.) with 60% marks and at least one year work experience; or
Four-year professional degree (engineering, agricultural sciences etc.) with 60% marks and at least three years work experience;
Applicants having valid score of UGC JRF in relevant disciplines (management, economics, social work, sociology, psychology, commerce, etc.).
The eligibility requirement for applicants from SC/ST/OBC/dap (differently abled person) is 5% less than those specified above.
IRMA, Anand Admission Procedure
For PRM


The candidates are selected for the second round on the basis of their performance in CAT or XAT. The second round consists of Group discussion and Personal interview.

For FPRM


IRMA uses CAT / XAT scores for admission to FPRM. All applicants for IRMA Admissions have to additionally appear for "Issues of Social Concern" test. Finally, candidates are selected by admission test, personal interview and presentation of an essay.
---
IRMA Fees
The fees for PRM programme at IRMA is 8 lacs.
---
Inside IRMA, Anand
IRMA Diversity
The data below portrays diversity at IRMA.
Gender Diversity
Graduation Background
Work Experience
Total participants = 118
Number of Females= 57
Number of Males= 61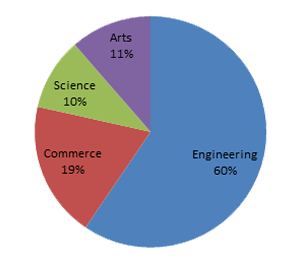 Graduation Background - Batch 2012-2014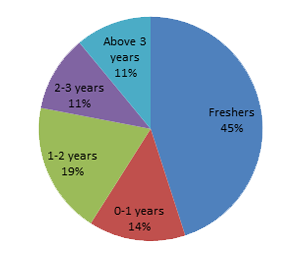 Work Experience - Batch 2012-2014
---
Placements at IRMA
Final Placements at IRMA, Anand
In the year 2016, IRMA witnessed 100% placements of the batch of almost 200 students. Interestingly, there is a good hike in both average placements as well as final placements.
| | |
| --- | --- |
| Placement Highlights | Details |
| Number of students participated | 193 |
| Number of PRM students who opted out of placement: | 4 |
| Number of students who accepted pre-placement job offers | 13 |
| Number of participants participated in campus placement | 180 |
| Minimum package offered | 300000 |
| Average package offered | 856104 |
| Median package offered | 840000 |
| Highest package offered | 2739000 |
For more info: https://www.irma.ac.in/article.php?menuid=35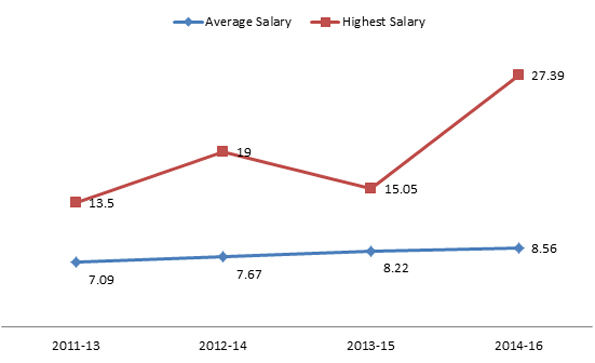 Average and Highest package over last four years
Summer Placements at IRMA, Anand
| | |
| --- | --- |
| Summer placement Highlights | Details |
| Total number of companies visited | 89 |
| Average Stipend | Rs.29,800 |
| Highest Stipend | Rs. 86,000 |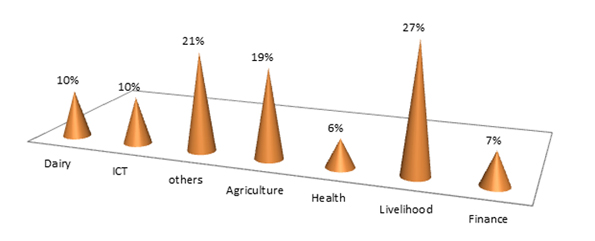 Domain-wise Summer Placements Batch 2014-16
Disclaimer:
The analysis given above has been prepared by Career Launcher experts. The information given here has no bearing on your actual score. Career Launcher does not take responsibility for any discrepancy between information in this document and actual result.