ISB Introduction
The Indian School of Business (ISB) is a private business school founded in 2001 by two senior executives of McKinsey & Company, Rajat Gupta and Anil Kumar. ISB is the first business school in India to be accredited by the Association to Advance Collegiate Schools of Business (AACSB).However, ISB is not accredited by the Indian statutory body, the All India Council for Technical Education (AICTE) as ISB has chosen not to apply for its accreditation. ISB has been ranked 33rd in the world in the 2015 Financial Times Global MBA Rankings. ISB offers the following programs:
Post Graduate Programme in Management (PGP)

An incisive one-year programme designed for mid-career professionals.

Post Graduate Programme In Management for Senior Executives (PGPMAX)

Targeted at high-calibre senior executives and business owners, with 10 to 25 years of work experience involving extensive managerial responsibility.

Fellow Programme in Management (FPM)

Designed for individuals who have a passion for research and learning and are keen to pursue an academic career.

Management Programme for Family Business (MFAB)

A comprehensive general management programme designed for young business leaders of family businesses who intend to manage their business.

Executive Education Programmes

Programmes for working professionals that are designed to provide timely learning interventions that help them progress in their careers.
Getting into ISB Hyderabad
ISB Results Accepted
For PGP
GMAT ( TOEFL / IELTS / PTE score required only if the language of instruction at undergraduate study level was not English)
For PGPMAX
For FPM
GMAT / GRE / CAT / GATE / JRF ( TOEFL score report, for applicants whose language of instruction at the undergraduate level is not English )
For MFAB
Business Administration Test (BAT)
ISB Eligibility
Eligibility for PGP
The candidate must hold a Bachelors degree or equivalent in any discipline
The candidate must have at least 24 months of full time post-qualification work experience as of March 31 of that year.
Eligibility for PGPMAX
The candidate should have a bachelor's degree or an equivalent qualification in any discipline. An equivalent qualification will be determined by the Admission Committee of the programme and will include the likes of CA, ICWA, etc.
The candidate should possess a minimum of 10 years of full-time work experience as on date of submitting the application (desired experience is closer to 15 or more years).
Eligibility for FPM
Candidates must hold a university degree from an accredited academic institution. Applicants typically should have an undergraduate/postgraduate degree in areas such as business, economics, engineering, computer sciences, mathematics, physics or the arts.
Eligibility for MFAB
The candidates should have completed the Bachelors Degree or an equivalent qualification (like CA etc.) at the time of submitting the application.
No work experience is required for admission. However, the ISB strongly feels that an experience of 4-5 years will add a lot of value
ISB Admission Procedure
For PGP
There are 2 stages that a candidate goes through before getting selected for MBA Programme.

Candidates are required to appear for theGMAT exam. Candidates are shortlisted based on their performance in the exam.
The shortlisted candidates are called for a round of Personal Interview. Based on their performance in the interview the selected candidates are offered a seat at ISB.

For PGPMAX

Applications are invited based on which a candidateis shortlisted.
Shortlisted candidates will be called for a round of Personal Interview. Interviews will be held in person whenever possible and may be conducted via teleconference or video conference facilities in some cases.

For FPM

Applications are invited from the interested candidates. The Admissions Committee reviews these applications in the month of March.
The candidates are offered admission to the FPM program based on the application itself. Though, some candidates may be called for an interview in order to get more clarity about their application.

For MFAB

Applications are invited based on which a candidate is shortlisted.
The shortlisted candidates are called for a round of Personal Interview. Based on their performance in the interview and the BAT exam the selected candidates are offered a seat at ISB.
ISB Eligibility and Selection Criteria For PGP
There are no cutoff marks for either the academic credentials or the GMAT score for selection in PGP at ISB. The admissions committee "holistically evaluates" the candidates based on the parameters specified below.
Leadership Potential

The candidate's leadership potential in a professional setting is gauged based on the impact the candidate has made in their professional and academic life. This facet is evaluated on the basis of the initiatives that the candidate has taken in his academic and professional life and his career growth.

Diversity

Diversity of various forms like work experience, educational background, nationality etc. are encouraged in the PGP programme.

Academic Credentials

Candidate's past academic performance and the GMAT score is taken in consideration to understand the candidate's potential to excel and outperform in a rigorous environment. However, as mentioned above no "cut off" criteria is applied to either the academic credentials or the GMAT score.The average GMAT score of the class of 2014 was 710.
More Info at: http://www.isb.edu/pgp/admissions/selection-criteria
ISB Fees
The most recently revised fees of ISB Hyderabadis tabulated below (as on May'15)
| | |
| --- | --- |
| Program | Fees |
| PGP | Rs. 25.44 lakhs |
| PGPMAX | Rs. 33.95 lakhs |
| MFAB | Rs. 33.70 lakhs |
FPM students are offered living expenses in the form of monthly stipend of Rs. 40,000 per month.
Inside ISB Hyderabad
ISB Diversity
The following data of the PGP batchportrays the diversity at ISB.
Gender Diversity
The following graph depicts the gender diversity of the 2015-16 batches at both the ISB campuses.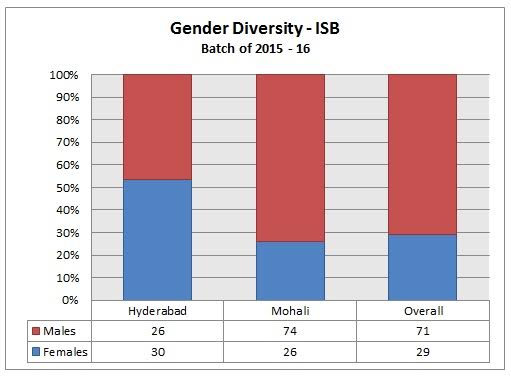 Academic Background Diversity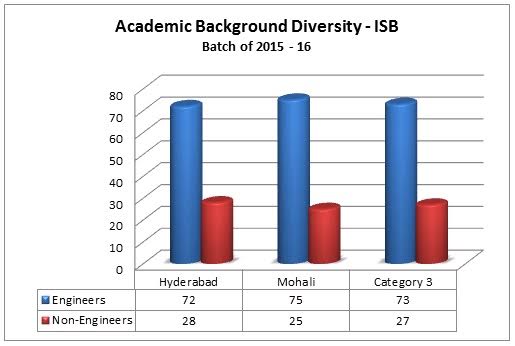 Work Experience Based Diversity
Students with work experience ranging from 2 - 14 years are a part of the 2015-16 PGP batch of ISB. The average work experience is 4.7 years at both the campuses.
ISB Final Placements
The batch of 2013-14 comprised of 766 students across Hyderabad and Mohali. The 2014 placements saw an 8% increase in the total number of offers. The average age of the batch was 27 years.
| | |
| --- | --- |
| Final Placements of 2015 at a glance | 2013 - 2014 |
| Total No. of Students Participating | 766 |
| Total No. of Companies | 350 |
| Total No. of Offers | 884 |
| 80% Mean Salary | 18.15 LPA |
| 80% Median Salary | 18.00 LPA |
The following is the function-wise break up of the placements.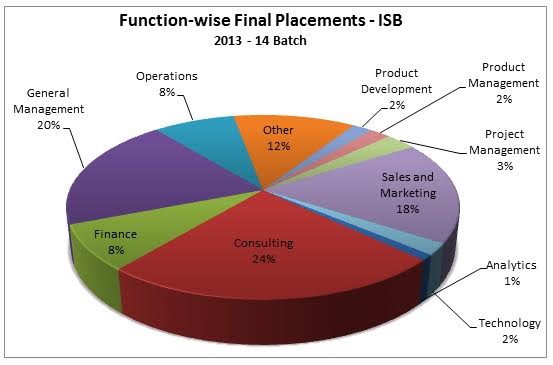 More info at : http://media.careerlauncher.com/mba/bschool/bschools/isb/Placement_Report2014_0.pdf
Disclaimer:
The analysis given above has been prepared by Career Launcher experts. The information given here has no bearing on your actual score. Career Launcher does not take responsibility for any discrepancy between information in this document and actual result.
Notable ISB Alumni
Ravinder Singh

Author

Shriprakash R Pandey

Chairman and Managing Director of Commtel Networks

Viren Wilfred Rasquinha

Former Captain, National Field Hockey Team of India
For more info , please visit

www.isb.edu