Doctoral Program in Management
Executive MBA (EMBA)
Part Time Programs
MBA (Part Time)
MBA (Social Entrepreneurship)
Specialized Programs
Integrated MBA Family Business
Weekend Family Managed Business Administration Program (FMBA)
Diploma in Social Entrepreneurship
Enterprise Training Program for Women (ETW)
IICA Certificate Program in CSR
CRISIL Certified Analyst Programme
Diploma Certificates
Post Graduate Certificate in Business Management (for defence officers)
Post Graduate Certificate Program in Management
Post Graduate Certificate Program in Business Analytics
---
Getting into NMIMS Mumbai
NMIMS Results Accepted
For all Full Time MBA Programs - NMAT
For Doctoral Program - Entrance Test or UGC-NET/ UGC-CSIR NET/SLET/GATE
For EMBA - Entrance Test or NMAT or GMAT
For Part Time Programs - Entrance Test or NMAT or GMAT
NMIMS Eligibility
Eligibility for MBA / MBA Banking / MBA Capital Markets / MBA E&FB / MBA HR
Full Time Bachelor's Degree (10+2+3) in any discipline from a UGC recognized University with minimum 50% marks in aggregate in the first attempt
Eligibility for MBA Pharmaceuticals Management
Full Time Bachelor's Degree (10+2+3) in Pharmacy, Science, Life Sciences, Medical Doctors MBBS, BDS, BE/B.Tech. (Bio-Tech/Bio-Medical), BHMS, BAMS, B.Sc and M.Sc in Biotechnology from a UGC recognized University with minimum 50% marks in aggregate in the first attempt.
Post Graduate degree in Economics, Psychology and Sociology can also apply.
Candidates with B.Tech. or B.E. in Bio-Tech. or Bio-Medical are also eligible to apply. Candidates working in Pharmaceutical Companies for more than two years are preferred
Eligibility for Doctoral Programme
The candidate must have passed the admission test conducted by the university OR
The candidate is qualified in UGC-NET (including JRF)/UGC-CSIR NET (including JRF)/SLET/GATE examination of the apex bodies in higher/technical professional education or other equivalent examination
Candidates for admission to the programme shall have a Master's degree or a professional degree declared equivalent to the Master's degree with at least 55% marks in aggregate
Eligibility For EMBA
Full Time Graduation from a recognized University in any discipline
A minimum 5 years of work experience in executive or supervisory capacity only
Eligibility for MBA Part Time
Full Time graduation from a recognized University in any discipline
A minimum 2 years of work experience in executive or supervisory capacity only
Eligibility for MBA Part Time in Social Entrepreneurship
(a) For Diploma in Social Entrepreneurship
Graduation from a recognized University in any discipline
(b) For MBA (Part Time) in Social Entrepreneurship
Graduation from a recognized University in any discipline
Minimum two year's experience with the social sector organization (NGOs, Social Enterprises, Government Departments, CSR/ Environment/Sustainability departments) either as full time staff or as volunteers up to 8 th April, 2017 OR Minimum two years corporate / administrative / business work experience
NMIMS Admission Procedure
1. Candidates are shortlisted on the basis of their NMAT scores.
2. The shortlisted candidates are then called to NMIMS Mumbai for a round of Case Discussion (CD) and Personal Interview (PI).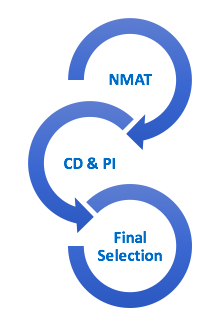 For Doctoral Program
1. Candidates will be shortlisted on the basis of their educational qualification and research proposal.
2. Shortlisted candidates will appear for NMIMS written Research Ability Test. This will be followed by a critique of a Research Manuscript and then Presentation based on SOP and Personal Interview.
3. Final Selection will be on merit.
Note: Candidates those who have qualified in UGC-NET (including JRF)/UGC-CSIR NET (including JRF)/SLET/GATE examination of the apex bodies in higher/ technical professional education or other equivalent examinations with valid score in validity period are exempted from NMIMS entrance test.

For EMBA
1. Candidates will be shortlisted based on their Entrance Test / NMAT (200 and above)/ GMAT (600 and above) score.
2. The shortlisted candidates have to face a round of Personal Interview.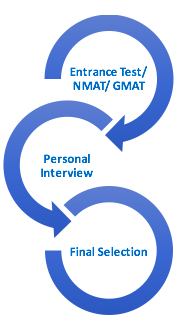 ---
NMIMS Eligibility and Selection Criteria for MBA PROGRAMS
NMIMS considers candidates for admission based on its own exam, NMAT, for admissions to all the MBA Full Time courses at NM Mumbai and all the PGDM courses at NM Hyderabad, Bangalore, Indore, and Navi Mumbai This exam is conducted in a window of 75 days during which a candidate is allowed to attempt the exam three times. The best of three score would be accepted by the institute for the final admission. The NMAT exam has a total of 120 questions. A correct answer fetches 3 marks and there is no negative marking for incorrect answers. The pattern of the exam has been tabulated below.
| | |
| --- | --- |
| Section | No. of Questions |
| Language Skills | 32 |
| Quantitative Skills | 48 |
| Logical Reasoning | 40 |
| Total | 120 |
Cut-off for the NMAT exam is mostly in the range of 208-210 and has been in this range only since the past few years.
STAGE 1 Taking the NMAT test. Candidates are shortlisted based on only their NMAT scores- overall as well as sectional.

STAGE 2 Shortlisted candidates are invited for Case Discussion (CD) and Personal Interview (PI)

STAGE 3 Final admission offers are made taking into account NMAT scores, CD and PI, as well as candidate's academic performance, relevant work experience and other similar inputs.

About 2000-3000 candidates are shortlisted and are called for a round of Case Discussion (CD) and Personal Interviews (PI).
NMIMS Fees
Fees for all the PG programmes at NMIMS (as per the latest data) has been tabulated below
| | |
| --- | --- |
| Program | Fees |
| MBA | Rs. 17.5 L |
| MBA Pharma | Rs. 10.5 L |
| MBA HR | Rs. 17.5 L |
| MBA Family Business | Rs. 18 L |
| Executive MBA | Rs. 5 L |
| PGDM Bangalore/ Hyderabad/ Navi Mumbai/ Indore | Rs. 14.5 L |
---
Inside NMIMS Mumbai
NMIMS Diversity
The following data of the 2016-18 MBA batch portrays the diversity of batch at NMIMS Mumbai.
Gender Diversity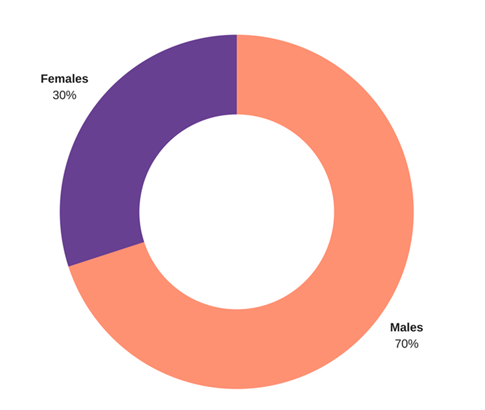 Academic Background Diversity
The following pie chart shows the academic diversity of the batch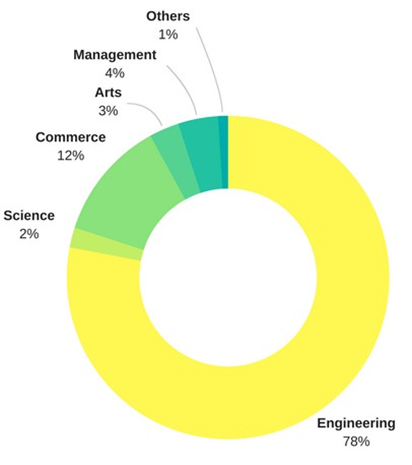 Work Experience Based Diversity
As it can be seen from the graphic below, NMIMS has maintained a good mix of fresher candidates and experienced professionals.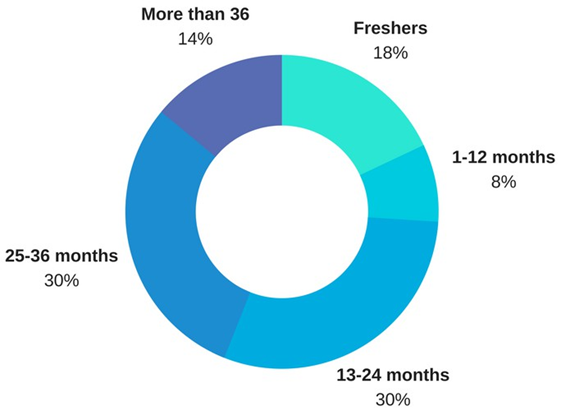 ---
NMIMS Final Placements
The industry yet again showed immense faith in NMIMS by offering a variety of top profiles to the students of the various NMIMS MBA programs. With as many as 184 companies visiting the campus, the placements of the 2015-17 batch was concluded in a record time. The highest salary was 34.11 LPA. The highlights of the placements have been given below. The total number of PPOs offered were 247, i.e. about 42% of the batch. It's a rise of 20% over the previous year.
Placement 2017 at a Glance

MBA CORE

MBA HR

No. of Students Participating

522

65

No. of Participating Companies

166

43

Average CTC

17.58 LPA

13.57 LPA

Highest salary

34.11 LPA

20.76 LPA
The sector-wise break-up of the final placements of the batch of 2015-2017 batch is given below:
MBA (CORE)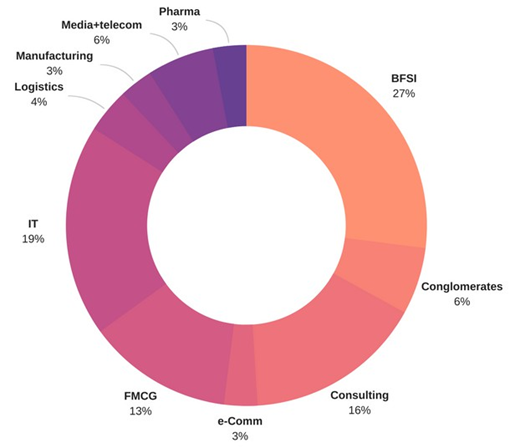 MBA (HR)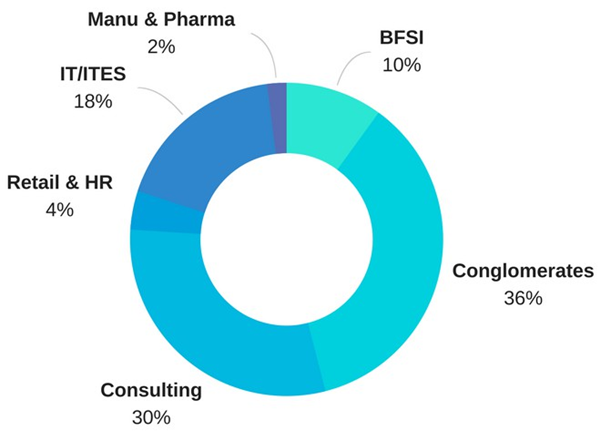 NMIMS Summer Placements
NMIMS has been one of the favourite recruitment destinations for the BFSI sector. Not only BFSI, companies from many other sectors visited the campus for offering summer internship as it is a good opportunity for the companies to absorb talent. Some of the key statistics of the various programs offered are given below.
| | | |
| --- | --- | --- |
| | MBA | MBA-HR |
| Total No. of Students | 524 | 78 |
| No. of Companies | 149 | 36 |
| Highest Stipend Offered (INR) | 3,00,000 L | 1,60,000 |
| Average Stipend Offered (INR) | 1,00,000 L | 77,230 |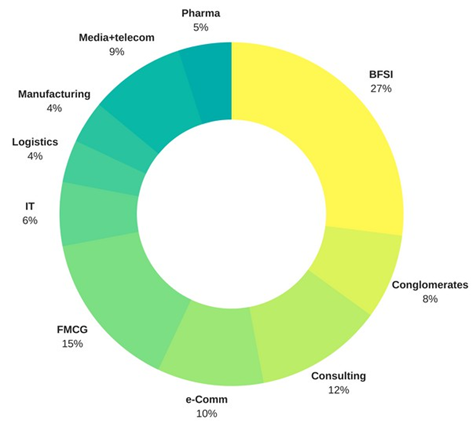 MBA (HR)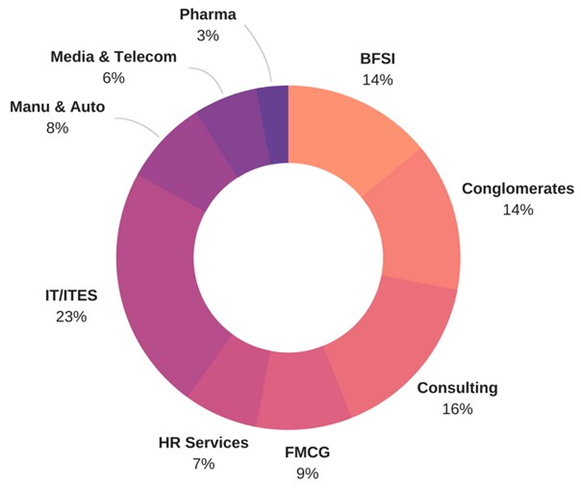 Disclaimer:
The analysis given above has been prepared by Career Launcher experts. The information given here has no bearing on your actual score. Career Launcher does not take responsibility for any discrepancy between information in this document and actual result.