SPJIMR Introduction
SP Jain Institute of Management & Research (SPJIMR) was established in 1981 in Mumbai. Inaugurated by the then British Prime Minister Hon'ble Margret Thatcher, SP Jain became one of the top ten B-schools of India by 1994-95. SPJIMR is located in the western suburbs of Andheri in Mumbai at a 45-acre sprawling campus. SPJIMR is an autonomous management institute which offers several short term and long term programs. Courses offered by the institution are:






---
Getting into SP JAIN
SPJIMR Results Accepted
For PGDM
For PGPM
For GMP
For PGMPW
For FPM
SPJIMR Eligibility
Eligibility for PGDM
An applicant should have a Bachelor's degree or equivalent (10+2+3) from a recognized university. Students in the final year of graduation can also apply.
Work experience is not mandatory for this program. Fresh graduates and those with up to 5 years of work experience can apply
Eligibility for PGPM
A candidate must hold a full-time Bachelor's degree in any discipline from a recognized university in India or abroad
The candidate must have a minimum of 5 years of work experience. Candidate's past academic performance, extra-curricular activities, other interests and accomplishments will also be taken into consideration.
Eligibility for GMP
Graduates from any stream (minimum 3 year degree) can apply as long as they get a minimum of 60%.
Candidates need to have a minimum score in one of the MBA Entrance Exams namely: GMAT [minimum 550] or GRE [minimum 300] or CAT [minimum 80 percentile] in order to be eligible. Candidates appearing for any of these Entrance Exams can apply as deferred admission candidates subject to submission of scores to GMP office latest by 15th December 2019.
A candidate can also provide their CA/CS/ICWA scores- an aggregate of intermediate or final marks in percentage terms.
A minimum of 2 years' experience to join ESB and a minimum of 3 years of experience for admission in IESEG, NBU, and EBS for the MBA programme.
Freshers can apply for the Master's program and courses in US Universities. Most of the MBA and MS in Management programs in US with STEM designation do not require any work experience. However, there are a few programs that require 2-3 years of work experience. Please check the specialization table in SPJIMR's GMP website to find out which colleges have this requirement.
Eligibility for PGMPW
Minimum work experience of 5 years (team handling experience will be given consideration)
Minimum career break of 2 years.
A bachelor's degree in any discipline from a recognized university.
Eligibility for FPM
A candidate must have at least one of the following
(i) A Master's degree in any discipline, with at least 55 percent marks or equivalent GPA (with a bachelor's degree/ equivalent qualification with at least 50 percent marks.
(ii) Five year/ four year Integrated Master's Degree programme in any discipline, with at least 55 percent marks.
(iii) A professional qualification like CA, ICWA, CS, with at least 55 percent marks.
(iv) A 4-year/8-semester Bachelor's degree with at least 60 percent marks or equivalent GPA.

A valid GMAT/GRE/CAT score
The candidate must have obtained at least 50 percent marks in the higher secondary schooling (10+2) or equivalent.
At least 3 years of work experience which is relevant to their specialisation or in a related discipline.
SPJIMR Admission Procedure
For PGDM
At the application stage the candidate needs to opt for two specializations. Applicants who are not shortlisted for the first option maybe considered for the second option.
Based on their profiles, the candidates are sorted into two shortlists; first phase and second phase shortlist.
Applicants are shortlisted in the first phase list based on their profile. The second shortlist is based on their profile along with their performance in the entrance tests.
These shortlisted candidates go through two rounds of group interviews. Final Merit List is based on a composite score, which takes into account the candidate's academic record, entrance test scores, relevance of work experience (if any) and performance in the two rounds of interviews.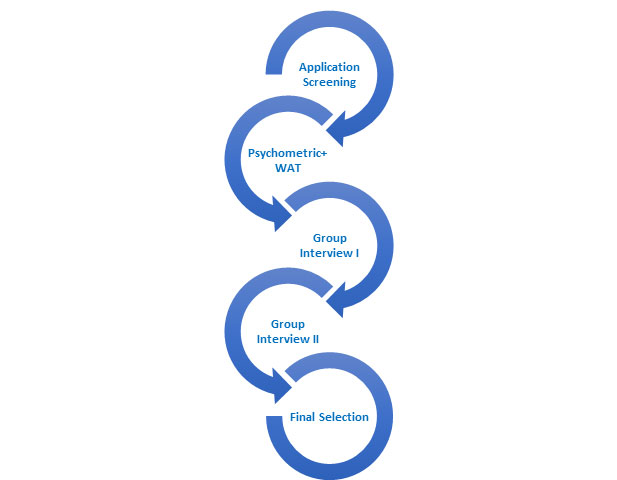 For PGPM
The candidate will be shortlisted based on the CAT/GMAT exam score and the candidate's profile.
Shortlisted candidates will be called for a personal interview. The final selection will be based on the CAT/GMAT score (as applicable), past academic performance, clear career plans, sound purpose of taking up this programme and the ability to map the relationship between these by the prospective candidate and SPJIMR's assessment of the above.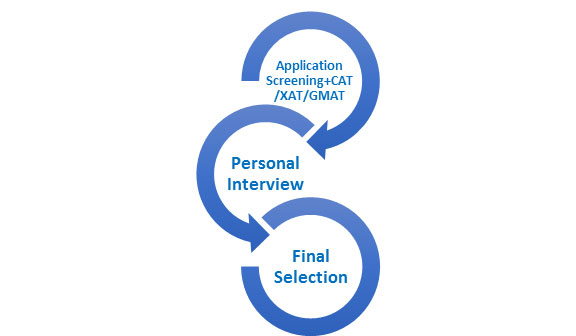 For FPM
Candidates are shortlisted based on their academic qualifications, work experience, profile, motivation, and recommendations.
The shortlisted candidates are called for a personal interview. They will also be required write a critique of a practice-oriented paper in his/her area of interest and then present it.
For GMP
Selected candidates will undergo 2 rounds of interview before the decision on their candidature is decided
The first interview is with SPIJMR Mumbai followed by an interview round with the US Partner B-School chosen
The US B-Schools evaluate the applications and can provide merit based scholarships of up to 100%
For PGMPW
The selection process comprises online aptitude test, written essay, group interview, and personal interview
---
SPJIMR Eligibility and Selection Criteria for PGDM At SP Jain
The applicants are shortlisted on the basis of their profiles. They are also expected to meet the qualifying scores in at least one of the entrance exams. The profiles are scored and the applicants are sorted into two groups: Profile based and Profile-cum-score based.
Qualifying Scores:
| | | | | |
| --- | --- | --- | --- | --- |
| Entrance Test | Sectional | Overall | | |
| CAT 2017 | Verbal Ability & Reading Comprehension | Data Interpretation & Logical Reasoning | Quantitative Ability | |
| Percentile | 75 | 75 | 75 | 85 |
| GMAT | Verbal | Quantitative | Integrated Reasoning | |
| Percentile | 75 | 75 | 6 (Score) | 85 |
Shortlists
Interviews Applicants shortlisted in the first list are called for an early interview. The shortlist is based on their profile considering the following factors:
Consistency of academic record
Relevance of work experience for the specialization
Versatility & achievements
Second Phase Shortlists
This phase is held after the availability of entrance test scores. Applicants in this phase are called for interviews on basis of their profile as given above, along with their performance in the entrance tests.
Selection List
The selection list is based on a composite score, which takes into account the applicant's profile, academic record, entrance test scores (CAT/GMAT), relevance of work experience (if any) and performance in the two rounds of group interviews.
TOTAL INTAKE:
The intake of the PGDM program is 240. An additional 36 seats have been sanctioned for PIO/OCI and Foreign Nationals. The maximum total intake of the program is up to 276 seats.
---
SPJIMR Fees
The most recently revised fees of SP Jain has been tabulated below
| | |
| --- | --- |
| Program | Fees |
| PGDM | Rs. 16,25,000 |
| PGPM | Rs. 16,25,000 |
| PGMPW | Rs. 9, 73,500 |
| GMP | Rs. 5,20,000 |
---
Inside SP JAIN
---
SPJIMR Diversity
SP Jain gives a lot of importance to diversity in its batches. The following data of the 2017-19 PGDM batch portrays the diversity of the batch.
Gender Diversity
SP Jain has an exceptional record when it comes to gender diversity. Over the last few years, there have consistently been around 35-40% females in each of its batches.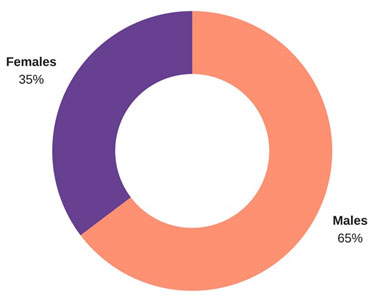 Graduation Background Diversity
SP Jain is home to students from diverse educational backgrounds having varied skill sets. The following graphics gives a picture of this diversity.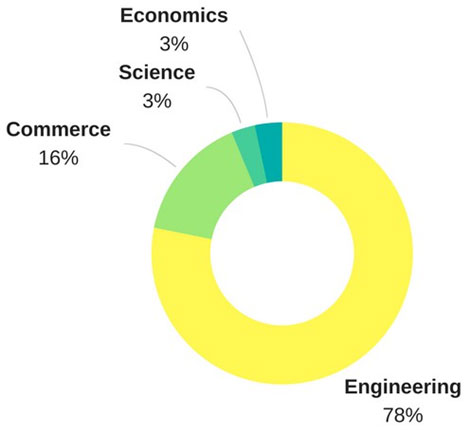 Work Experience Based Diversity
A few years of work experience has proven to be a plus point for a candidate seeking admission in SP Jain.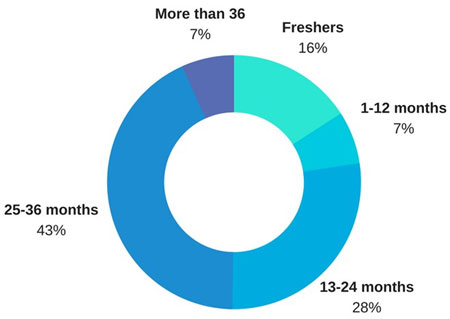 ---
SPJIMR Final Placements
SP Jain reaffirmed its position as one of the top B schools of the country by showing exemplary performance in the placements of 2017. About 40% of its students were offered PPOs which depicts the good reputation that SP Jain enjoys in the industry. The following table gives the key statistics of the placements.
Final Placements of 2017 at a glance
| | |
| --- | --- |
| No. of Participating Students | 229 |
| No. of Participating Companies | 104 |
| No. of Offers Made | 256 |
| No. of PPOs/PPIs | 86 |
| Average Salary | Rs. 20.9 LPA |
| Highest salary on campus | Rs. 39.5 LPA |
The following graphic depicts the various domains in which jobs were offered at SP Jain.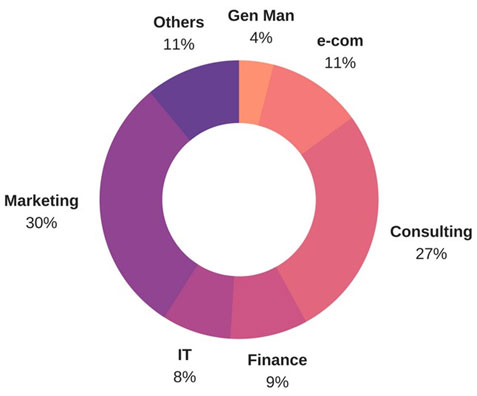 ---
SPJIMR Autumn Placements
SP Jain students undergo internships in autumn (after the 3rd semester) instead of summer internships at the end of the first year (i.e. after 2nd semester). This is due to the reason that only the basic courses are taught in the first year while a project requires some level of specialized knowledge. The number of pre-placement offers(PPOs) and pre-placement interviews(PPIs) as an outcome of autumn internship has consistently been more than 40 % over the years. Some statistics of the latest Autumn Placements for the year 2016 have been given below.
Autumn Placement Highlights
Total Batch Strength
229
Participating Firms
53
Debut Participating Firms
29
Total Offers
223
Average Stipend
Rs.1,48,000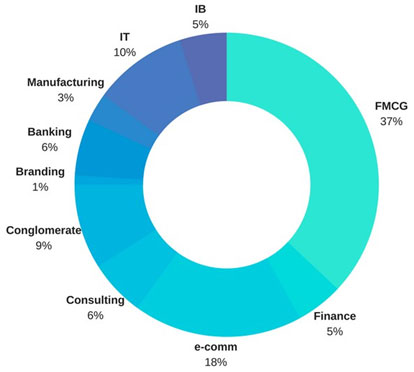 Disclaimer:
The analysis given above has been prepared by Career Launcher experts. The information given here has no bearing on your actual score. Career Launcher does not take responsibility for any discrepancy between information in this document and actual result.
For more info , please visit www.spjimr.org