TISS Introduction
Established in 1936 as the Dorabji Tata Graduate School of Social Work, TISS is regarded as India's first school of social work. The institute started off by offering post-graduate diploma in Social Work. However, over the years TISS has expanded itself considerably to offer courses in policy, planning, action strategies and human resource development. Currently, TISS has four campuses Mumbai, Tuljapur, Hyderabad and Guwahati.
TISS Mumbai currently offers M.A, M.Phil, Ph.D and short term programs in the following areas:
Social Work
Management and Labour Studies
Health Systems
Development Studies
Education
Habitat Studies
Disaster Management
Human Ecology
Media and Cultural Studies
Law, Rights and Constitutional Governance
Getting into TISS Mumbai
TISS Results Accepted
For M.A. Programmes - TISSNET
For M.Phil. and Ph.D. programmes - Research Aptitude Test (RAT)
TISS Eligibility
Eligibility for M.Phil. & Ph.D. Programmes
The candidate must hold a Second-Class Master's or equivalent degree in a relevant subject awarded by a recognized university in India or abroad, with at least an average of 55 per cent of aggregate marks, or a grade point average of 3.5 under the seven-point scale of the University Grants Commission (UGC). In the case of Scheduled Caste (SC) and Scheduled Tribe (ST) candidates, the minimum eligibility is an average of 50 per cent of aggregate marks, or a grade point average of 3.05.
Candidates who are likely to complete all the requirements of their final year Master's Degree examinations by July 1, are also eligible to apply for M.Phil, provided they have successfully completed their first year masters degree. In such cases, admission will be provisional.
A minimum of five years of post-graduation work experience is required for Direct Ph.D. programmes. In case of the Integrated M.Phil-PhD Programme, there is no requirement of work experience. However, candidates with one to two years of work experience will be preferred.
Candidates who have an M.Phil or equivalent degree awarded by a recognized university in India or abroad are also eligible for a Direct PhD
Submission of a research proposal is a compulsory requirement for admission to the Integrated M.Phil-Ph. D and Direct Ph.D. Programme. A research proposal consisting of approximately 1,000 words should accompany the proposal and indicate the Specification of the broad field of study, Statement of the research problem and scope and objectives of the study, rationale for and the significance of the study, methodology to be followed, references, and the candidate's research/work experience in that area, if any.
Eligibility for M.A. Programmes
Candidates having a bachelor's degree of minimum 3 years duration or its equivalent (under the 10+2+3 or 10+2+4 or 10+2+2+1 year bridge course pattern of study or any other pattern fulfilling the mandatory requirements of 15 years formal education) from a recognized university are eligible to apply
At the time of applying, candidates studying in a 3-year degree programme should have passed in all the subjects from the 1st to 4th semesters and candidates studying in 4-year degree programmes should have passed in all the subjects from the 1st to 6th semester.
Only those candidates who will be able to complete all the requirements of their final year Bachelor's Degree examinations by June 14 of that year are eligible to apply to all the programmes.
TISS Admission Procedure
1. Candidates are shortlisted on the basis of their TISSNET score.
2. The shortlisted candidates are then called for a round of Pre-Interview Test and Personal Interview (PIT/PI)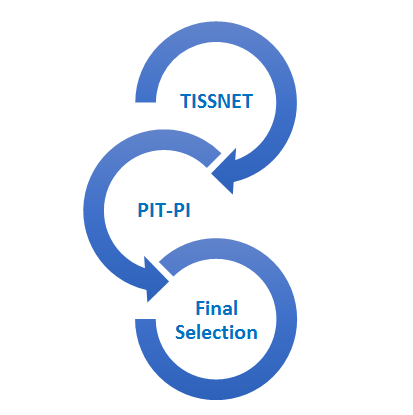 For M.Phil. & Ph.D. Programmes
1. Candidates will be shortlisted based on their application. Shortlisted candidates will be required to appear for the Research Aptitude Test (RAT).
2. Candidates who qualify the RAT exam are then called for a round of Personal Interview.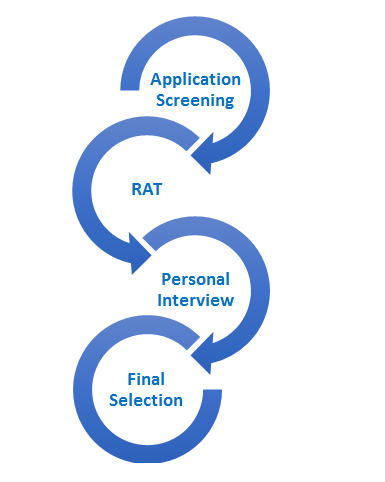 ---
TISS Eligibility and Selection Criteria for M.A. Programmes
TISS conducts its own computer-based test TISS National Entrance Test (TISSNET). The test has three broad sections. The number of questions and the pattern of the test has been described below.
| | |
| --- | --- |
| Section | Marks |
| English Proficiency | 30 |
| Maths and Logical Reasoning | 30 |
| General Awareness | 40 |
| Total | 100 |
The general awareness section is usually the toughest of the three and proves to be a decider for many. Students are required to clear the cut-off of this exam for them to be considered for the Pre-Interview Test and Personal Interview rounds.
Marks for different Components of Assessment:
| | |
| --- | --- |
| National Common Written Test | 100 marks |
| Pre-Interview Test/GD | 50 marks |
| Personal Interview | 75 marks |
| Total | 225 marks |
MERIT LIST PREPARATION:
The weightage for NET, PIT and PI is as follows for the for the preparation of final merit lists for General as well as for Reserved Category candidates. NET - 40%; PIT - 30%; PI - 30%
Reservations at TISS
For SC (15%), ST (7.5%), OBC(NC) (27%) and PWD (3% i.e. 1% in each category of
a) Low vision / blindness,
b) Hearing Impairment, and
c) Locomotor Disability / Cerebral Palsy as per Government of India (GoI) rules.
The reservation for Kashmiri Migrants (KM) is 1% and Armed Forced is 5%, subject to the Government of India (GoI) Directives
TISS Fees
The fees for M.A. Human Resource Management and Labour Relations ranges from Rs. 1,08,600 (non-hostellers) to Rs. 2,32,600 (hostellers).
---
Inside TISS Mumbai
TISS Diversity
The following data of the 2016-18 batch portrays the diversity at TISS.
Academic Background Diversity
There are students from various academic backgrounds pursuing the masters at TISS. The following graphic depicts this diversity.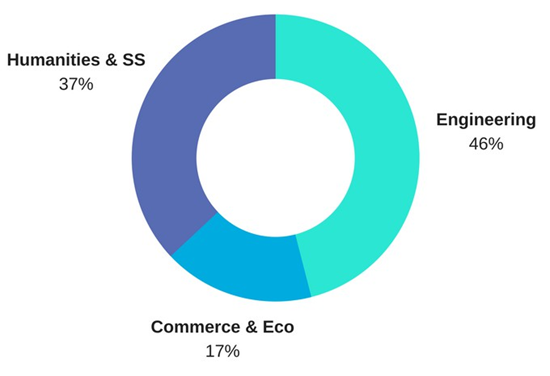 Work Experience Based Diversity
As it can be seen from the graphic below. TISS has maintained a good mix of freshers and experienced professionals.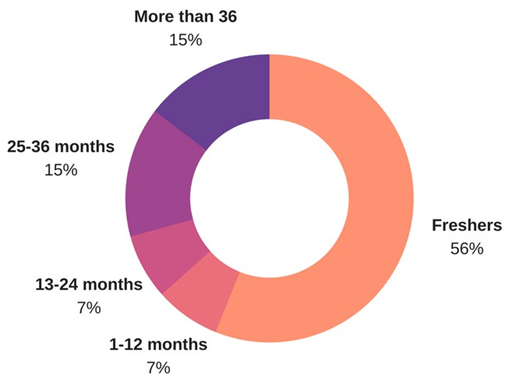 ---
TISS Final Placements
The placement season begins by companies giving Pre-placements talks which help the students to make a perception about the company and the job profile. This is followed by resume submission to various companies by the students. The companies are then divided into groups and the recruitment processes begins.
Placement 2017 at a Glance

No. of Students

65

No. of Participating Companies

44

Average CTC

Rs.18.2 LPA

Median CTC

Rs.18 LPA

Highest CTC

Rs. 28.5 LPA

PPOs received

19

Lateral Offers

12

International Offers

2
Following is the distribution of offers made to students across domains: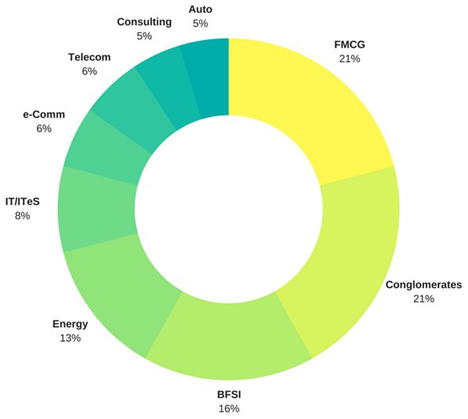 Summer Placements of 2016 were concluded in record time with the complete batch of 62 students bagging paid internship offers. There were 4 first-time recruiters- Altisource, Atos, General Mills and Redbull. ITC was the biggest recruiter, making 6 offers. The highlights of the placement process are given below.
The analysis given above has been prepared by Career Launcher experts. The information given here has no bearing on your actual score. Career Launcher does not take responsibility for any discrepancy between information in this document and actual result.