Tuition Pedagogy
At Career Launcher Tuition, a child benefits from a comprehensive curriculum delivered by experienced & expert faculty members through an interactive & blended teaching pedagogy. Career Launcher prides itself on having faculty members of the highest caliber who form the backbone of our learning program. Our faculty members inherently display patience, approachability, confidence, an orientation to get results, & an unbiased attitude. Within the classroom, learning is simplified by technology-aided teaching, as well as study material & notes collated by teachers with years of demonstrated subject expertise. Our goal is to provide blended learning of highest degree, with focus on overall development of students, so that they achieve the most & succeed in all aspects of life.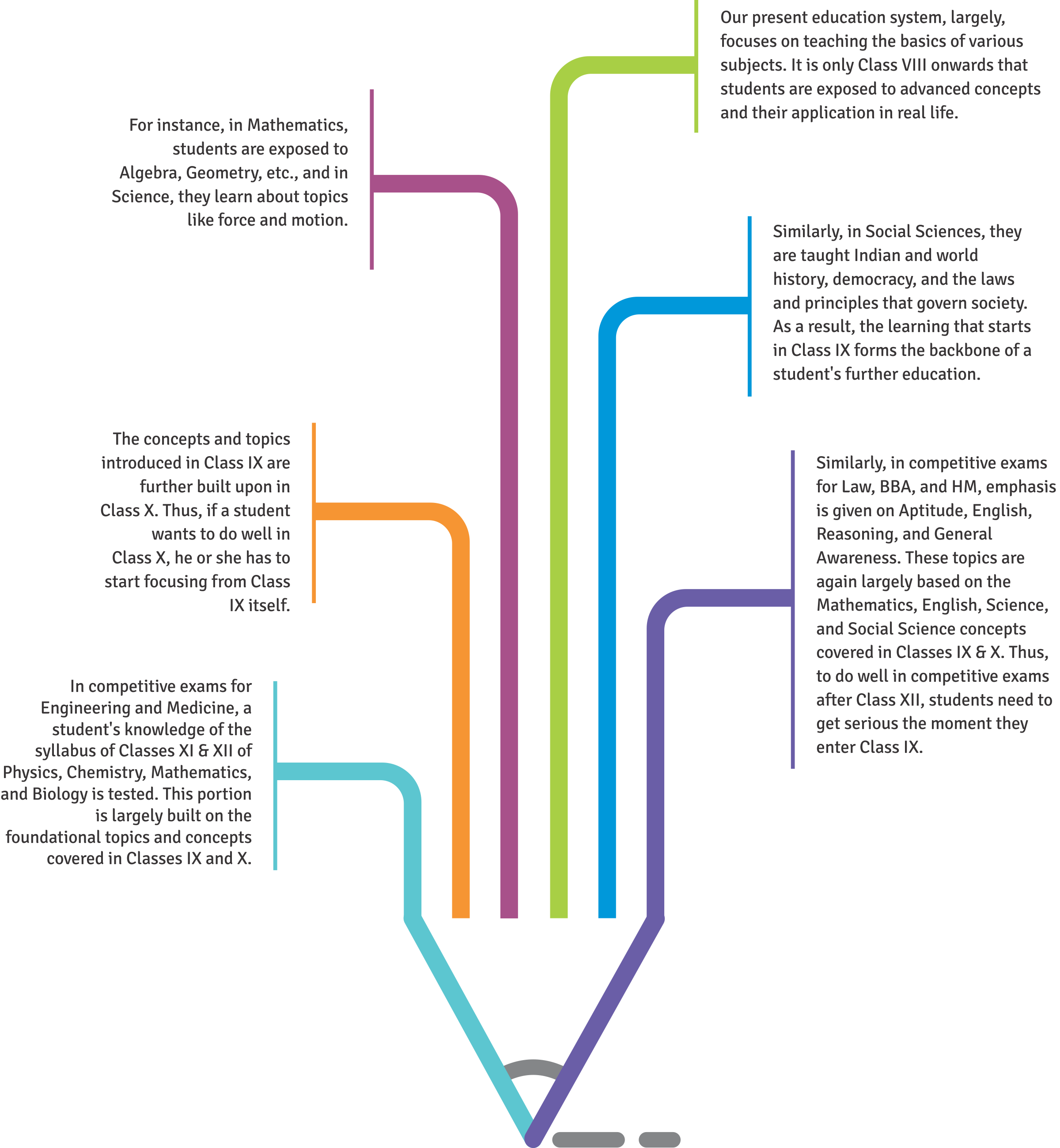 Our Key course Highlights
The essence of a good & effective education is the ability to apply the concepts learned in school to real-life situations; and, thereby solve problems effectively. It is widely believed that the challenges of the 21st century make it critical to encourage further development of scientific knowledge that today's learners possess.

Strong Foundation
Focus on concepts strengthens students' core knowledge; alongside, use of technology to help visualize important concepts enriches their aptitude and scientific temperament

Personality Development
Improving communication skills, presentation skills, selfawareness, & selfdevelopment through a structured & time-tested program

Comprehensive Coverage
In-depth coverage of syllabus of Board Examinations along with the syllabus from various competitive exams like Olympiads and NTSE with regular progress reports

Time-management & Test-taking Skills
Mock tests, MCQ-based tests, & their analyses impart relevant time-management & test-taking skills for successfully tackling competitive exams

Logical & Analytical Skills
Enhancing students' reasoning & thinking skills, to help them solve complex problems easily and confidently

Balance between Board & NTSE/Olympiads
A balanced approach is followed to make students prepare well for the competitive exams without getting his board exam preparation hampered. It is ensured that he performs exceedingly well on boards and at the same time becomes competition read.

Blended Learning Approach
A powerful, online, 24X7 support platform that you can access as soon as you enroll with us.

Stress-free Learning
We firmly believe that learning should be accompanied by enjoyment. That is why only after each student has properly grasped one topic do we move on to the next.

Psychometric Analysis
Know the stream that is right for you. Shortlist colleges based on your career choice. Get assistance in the application process.