Workshop @ Allcargo Logistics, Mumbai
A four day Machine Learning Bootcamp was conducted in All Cargo Logistics, Mumbai for the leadership and senior managers of the organization. At the end of the 30 hour program every participant became eligible for a Green Belt certification , to be awarded after submission of all project work
The objective of the workshop was:
To create the awareness of data analytics and application of machine learning processes to enhance the decision making ability of the organization.
Basics of Python and Machine Learning algorithms - including advanced topics like Recommender systems, Artificial Neural networks, Natural language processing and Time Series Analysis
Exposure to a range of Business problems - with coding examples of solving problems using Machine Learning algorithms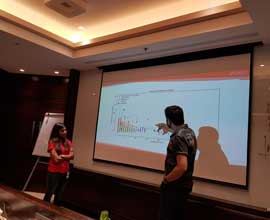 In addition to the learning sessions, the participants brought their own problems and datasets to solve and came through with great results and insights.
A team from CL Educate, led by Mr Sujit Bhattacharyya (Chief Innovation Officer, CL Educate) conducted the sessions. Dr Subhrajit Bhattacharyya and Mr Ayush Joshi were co-faculty of the program.
In total, 23 participants, comprising top management personnel from a number of different verticals attended the workshop.