The Rajiv Gandhi Indian Institute of Management (RGIIM)Shillong,established in 2008, is the seventh IIM to be established. The decision to have an IIM in the northeast was taken in June 2004 by the Ministry of Human Resource Development, Government of India. Shillong was unanimously chosen as the location for this new IIM by the Ministry of Development of North Eastern Region (DONER) and the Chief Ministers of States of the region. Currently, RGIIM-S offers the following programs.
Post Graduate Programme in Management (PGPM)
RGIIM-S's flagship two-year residential programme
Post Graduate Program for Executives - Managing Business in India and China (PGPEx-MBIC)
A joint-venture program between RGIIM-S and the Ocean University China(OUC), Qingdao aimed at providing general management in context of India and China.
Fellow Programme in Management (FPM)
Four-year full time residential doctoral programme
Getting into RGIIM-Shillong(IIM-S)
IIM-S Results Accepted
For PGPM
Domestic Candidates (in India) - CAT

International Candidate (outside India) - GMAT
For PGPEx - CAT / GMAT
For FPM - CAT/GMAT/GRE/UGC JRF/GATE
IIM-S Eligibility
Eligibility for PGPM
The candidates must hold a Bachelor's Degree, with at least 50% marks or equivalent CGPA [45% in case of the candidates belonging to Scheduled Caste (SC), Scheduled Tribe (ST) and Differently Abled (DA)] awarded by any of the Universities incorporated by an act of the central or state legislature in India or other educational institutions established by an act of Parliament or declared to be deemed as a University under Section 3 of the UGC Act, 1956, or must possess an equivalent qualification recognized by the Ministry of HRD, Government of India.
Eligibility forPGPEx-MBIC
TPGPEx-(MBIC) program is designed for working executives from reputed organizations operating out of emerging economies. All the applicants must have at least a bachelor degree in any discipline from a recognized University. CAT (Overall percentile of the test taken in either of the years 2015 or 2016) and/ GMAT (Valid score since the last three years), Work Experience of managerial/ supervisory roles (05 years and above is desirable). Appropriate relaxations may be granted for candidates with strong managerial/supervisory role experience.
Eligibility for FPM
Candidates should have:
A Masters' degree or its equivalent in any discipline with minimum 60% aggregate marks for General Candidates, 55% (Engineering students) or 50% (non-engineering students) aggregate marks for SC/ST Candidates or equivalent grade point average.
A Bachelor's Degree with minimum 60% marks for General Candidates. 55% (Engineering students) or 50% (non-engineering students) aggregate marks for SC/ST Candidates or equivalent grade point average.
Secondary and Higher Secondary Examination with minimum 60% aggregate marks for General Candidates. 50% aggregate marks for SC/ST Candidates.
Any professional qualifications such as CA, ICWA/ICAI and CS with a minimum 55% aggregate marks.
IIM-S Admission Procedure
For PGPEx


Candidates are shortlisted based on their CAT/GMAT score and their application form which includes their academic performance and quality of work experience.
Shortlisted candidates are called for attending the Executive Assessment Center (EAC).



For FPM

Candidates are shortlisted on the basis of their academic record and performance in the competitive examinations mentioned above.
Shortlisted candidates face a round of Personal Interview after which the final selections to the FPM Programme are made.



---
IIM-S Eligibility and Selection Criteria for PGPM AT IIM-S
For 2017-19 batch
Phase 1: Shortlisting for GD and PI
For consideration in short listing the minimum requirements of marks in various examination/test, for candidates in different categories, will be as given in Table below:
| | | | | | | |
| --- | --- | --- | --- | --- | --- | --- |
| Category | SSC Percentage | HSC Percentage | Graduation Percentage | VRC Percentile | DILR Percentile | QA Percentile |
| DA | 50 | 50 | 45 | 50 | 50 | 50 |
| SC | 50 | 50 | 45 | 50 | 50 | 50 |
| SC | 55 | 55 | 50 | 60 | 60 | 60 |
| Others | 80 | 80 | 65 | 70 | 70 | 70 |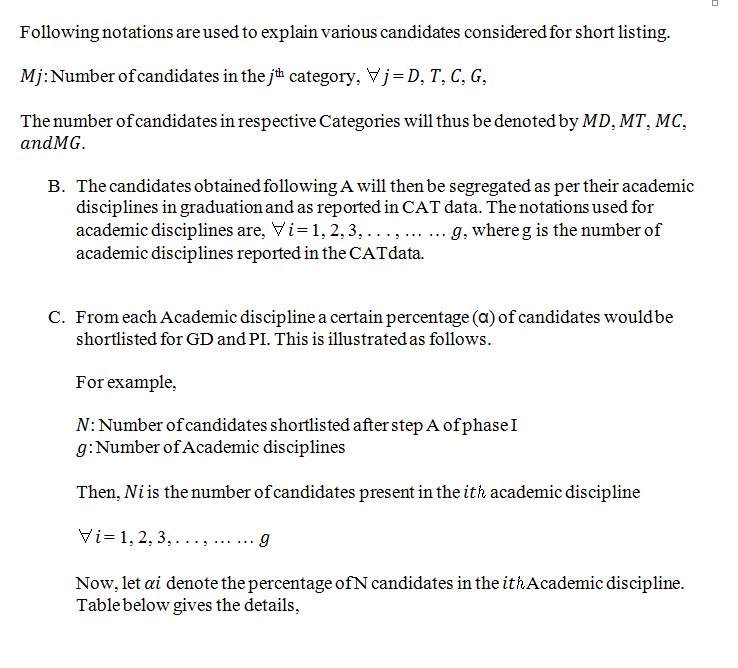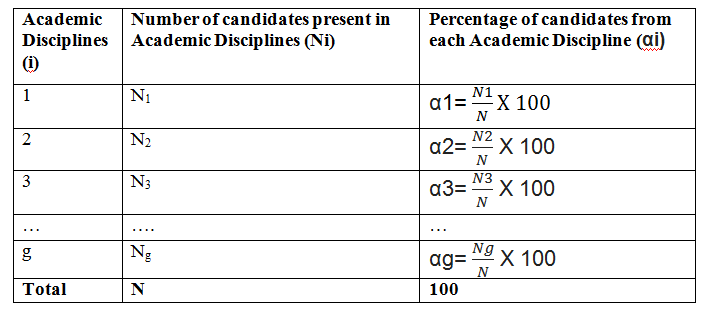 D.The candidates resulted through Step A in respective Categories i.e. MD, MT,MC, andMG will be segregated into various sub-groups based on their academic discipline as per their bachelor's discipline. Therefore, the sub-groups resulted would be as shown in Table below:



E.The candidates in a given category and academic discipline would then be rankedin the decreasing order of their CAT overall percentile.
F.Number of candidates shortlisted for GD and PI.
i.Based on the candidates' data in CAT, the Institute will decide to shortlist a total of X candidates for GD and PI. X will be decided based on the overall performance of the candidates in CAT 2016, the number of seats available, buffer for possible overlap and attendance trends in the past, etc.
X= Number of candidates to be called for GD and PI
The number of candidates to be shortlisted for interview in respective category will be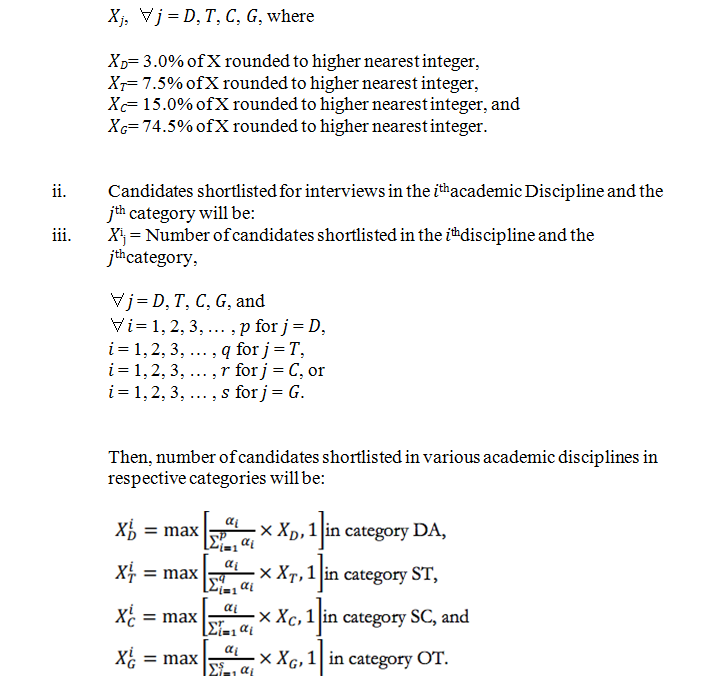 These X number of students will be invited to apply for GD and PI.
Phase2: Merit Listing for Admission Offer
Scores of GD and PI will be used along with overall CAT performance for preparation of the final merit list for admission offer.
x: Score in GD,
y: Score in PI.
z: Overall CAT Absolute Score
Further, x, Y, and z would be then Normalized as NX and NZ for preparation of the final merit list.
Let us say total m number of candidates will appear in the GD and PI process. An overall score, osc for every candidate c, who appears GD and PI will be calculated using the following formula, which will be used for preparing the merit list for the final selection.

where,


However, there will be different cut-off scores for candidat's performance obtained in PI in various categories as shown in Table below. The cut off score will be used to prepare a list of candidates eligible for preparation of merit list for admission offer.
| | |
| --- | --- |
| Categories | Cut-off as minimum percentage of performance out of maximum possible combined performance in PI |
| DA | 20% |
| ST | 20% |
| SC | 20% |
| OTHERS (OT) | 30% |
The candidates will be ranked based on the decreasing order of the 𝑂𝑆c scores. The admission offers will be made to the candidates in order of their rank based on the osc scores.
The most recently revised fees of RGIIM-S's PGPM programme is Rs. 8 lakhs.
---
Inside IIM Shillong
IIM-S Diversity
The following data of the PGPM batch of 2015-17 portrays the diversity of the batch.
Graduation Background Diversity
The following pie chart shows the academic diversity at IIM-S. The MBA batch is dominated by engineers from the top engineering colleges.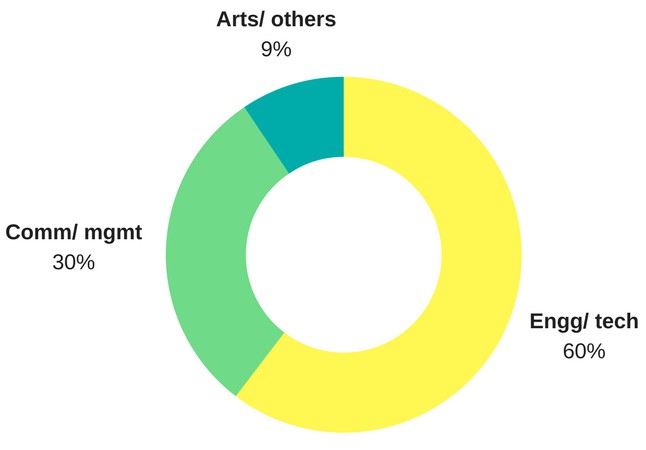 Work Experience Based Diversity
The 2015-17 batch of PGPM has a good number of freshers. The following graphic depicts the work experience diversity of RGIIM-S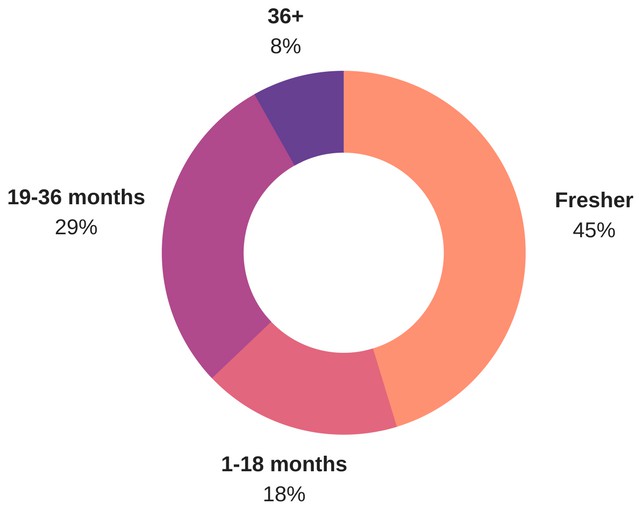 ---
IIM-S Final Placements
The placements of the class of 2017 saw an exceptional response from the industry. With an average CTC of 14.27 LPA, and an average of 19.42 LPA for the top 20%, IIM-S stood true to its legacy. Finance and Sales & Marketing came across as the highest paying domains.
| | |
| --- | --- |
| Final Placement Highlights | 2013 - 2015 |
| Batch Strength | 156 |
| Participating Companies | 43 |
| Total PPOs | 57 |
| Highest CTC | 26 LPA |
| Average CTC | 14.27 LPA |
| Median CTC | 14 LPA |
Domain-wise classification for the batch: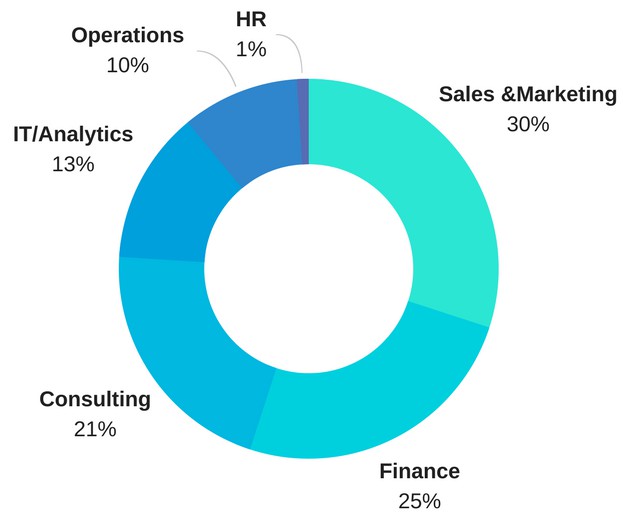 IIM-S Summer Placements
The summer placement for the batch of 2016-2018, was successfully completed in record time. IIM Shillong hosted an array of prominent recruiters such as Mahindra GMC, ITC, Deloitte, Aditya Birla Group, Dabur, Google, HSBC, Beiersdorf (Nivea), Yes Bank, VMware, Perfetti Van Melle, Tata Steel, Cognizant Business Consulting, Amazon, Kohler, and Fidelity Management Research, among many others
| | |
| --- | --- |
| Summer Placement Highlights | 2016 - 2018 |
| Batch Strength | 174 |
| Participating Companies | 64 |
| Total Offers | 185 |
| Average stipend | 81K |
| Growth in average stipend (YOY) | 16% |
| Highest stipend | 300 K |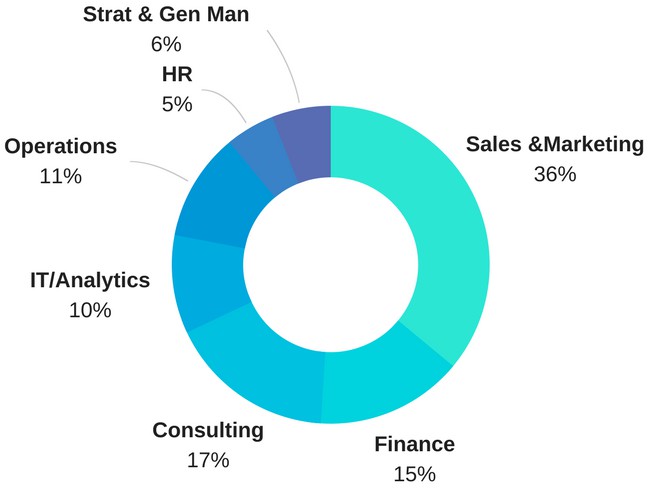 Disclaimer:
The analysis given above has been prepared by Career Launcher experts. The information given here has no bearing on your actual score. Career Launcher does not take responsibility for any discrepancy between information in this document and actual result.